Bible of Organizing
Bible of Organizing is a complete handbook for grassroots activists, based on the Third World experiences and experiments of Sichendra Bista who has been admired by the press as follows: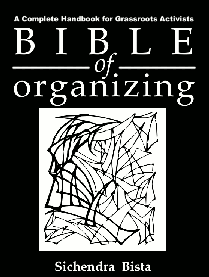 "[Sichendra] Bista is the most intelligent person I have ever had the privilege of knowing as a good friend. He has vast learning on versatile subjects. In the 1500s he would have been among the brilliant colleagues of Michelangelo and DaVinci." Dr. Edward A. Morris, Former Regent of University of California and Former President of International Brotherhood of Magicians (IBM) (December 7, 2010)
"Learn the art of revolution from Sichendra." Aaajako Samacharpatra national daily (published September 18, 1997)
"Sichendra Bista is a legendary man who spontaneously pops up novel thinking and development innovations which are always practical at the grassroots." Biswobhoomi national daily (published May 8, 1998)
"I salute the indefatigable man and an organizing guru with multifarious experiences who conceived the silent revolution while leaving the burgeoning 'chattering' class to dedicate himself to grassroots activism." The Kathmandu Post national daily (published June 20, 1999)
"He (Dr. Sichendra Bista) believes in himself and his selfless action to transform the society by working on the simple aspects of life. He does not promise for gigantic infrastructures or enormous funds but did assure radical changes into the meaning of life. He believes in action, not words. He makes simple, specific and realistic goals, then work for it to come true. He works silently, yet much effectively." The Rising Nepal official national daily (published October 4, 2002)
"I am really impressed with what you've been doing to overcome refugee crisis. Outstanding job … particularly when 'the world is likely to see more refugees within their own domicile because of insecurity originated from the terror aftermath September 11' (the words in inverted commas are of Dr. Sichendra Bista, Founder and President of Global Initiatives International Secretariat). I would love to draw attention to a similar organization like ARC which has been silently acting i.e. Global Initiatives for Sustainable Development and Humanitarian Action (GI). The attributions currently available may not be enough to praise your works as well as that of GI, I guess. Selfless activities like yours and that of Dr. Bista would certainly put the humanity as a priority in global agenda." American Rescue Commitee guestbook (published November 17, 2001) http://www.archq.org/guestbook/
Don't miss your copy. Book today.